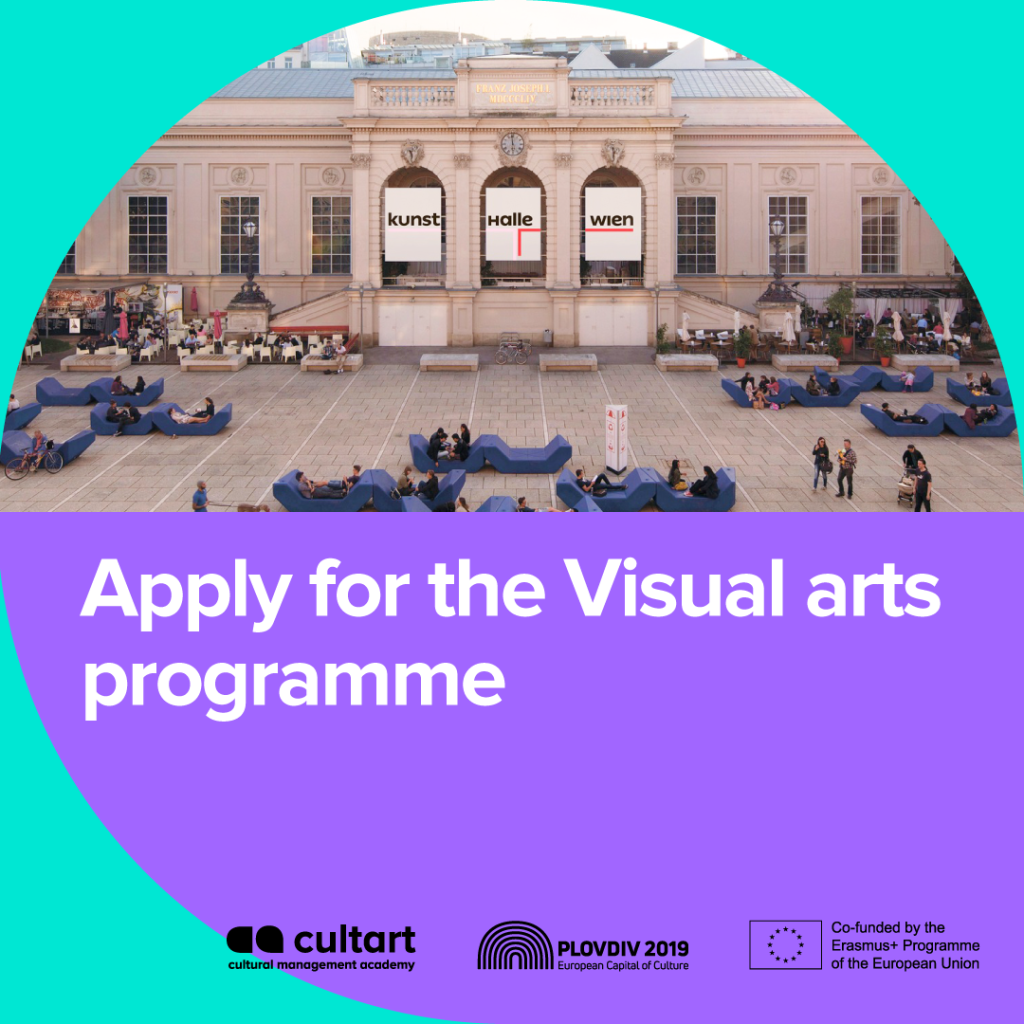 Short bio and projects
Kunsthalle Wien is a space that comprises the broad diversity of international contemporary art and its related contemporary discourses. To this effect, Kunsthalle Wien has been developing innovative exhibition and communication formats. As an open forum, it is not a collection, but rather both a space for established art and a negotiation site for current issues and future developments. It attaches great importance to the reflection of art and culture in addition to the presentation of art and is equally concerned with its responsibility towards its visitors. Kunsthalle Wien is open and accessible to all. Its educational program offers a variety of approaches, encourages a combination of artistic practice and theoretical reflection, and promotes an in-depth discussion of current issues of everyday life.
Kunsthalle Wien is dedicated to art and its relations to social change. It produces exhibitions, researches art practices, and supports local and international artists. It grounds its knowledge of international contemporary art in and for Vienna, and advocates for the use of artistic thinking in the wider public sphere.
Founded in 1992, the Kunsthalle Wien is a large exhibition space with no permanent collection. Тhe Kunsthalle currently attracts around 70,000 visitors a year.
Educational Programmes:
For Kunsthalle Wien, it is fundamental to introduce contemporary art to all those who are interested or to those who could potentially gain valuable experience from it – even if they have had little contact with art so far. We realize projects focusing on the cooperation of young people with and without migration experience and artists. The aim of these projects is to break down barriers, explore the potential of contemporary art, and stimulate a mutual creative and intellectual exchange.
Young people, artists, and art educators deal with topics that they also deal with in their everyday lives and connect these issues to artistic media and strategies. Above all young people are encouraged to express a critical approach that gives them self-confidence through their own (artistic) creativity.
In cooperation with cultural institutions, schools, teachers, artists, and curators, the education team of the Kunsthalle Wien develops a variety of projects and activities – in relation to the current exhibitions as well as events independent from them.
Location and venues
Since it opened in 1992 – originally as a makeshift structure shaped like a container, today with locations at the Museumsquartier and Karlsplatz – Kunsthalle Wien, as an urban institution, presents national and international contemporary art.
In the beginning, Kunsthalle Wien was a makeshift structure. Conceptualized as a temporary edifice in the shape of a container by Adolf Krischanitz, Kunsthalle Wien opened its doors at Karlsplatz in 1992. The initially rather controversial yellow container structure not only shaped the Viennese cityscape but also changed the local art and exhibition scene.
In May 2001, Kunsthalle Wien eventually moved into its new headquarters, designed by the architect duo Ortner & Ortner, at the Museumsquartier. For this headquarters, the Winterreithalle (winter riding arena) of the Hofstallungen (Imperial Mews) was extended by a functional annex that combines the historic building with contemporary architecture. Two halls with different interior profiles provide space for exhibitions of contemporary art.
In 2001, the yellow container at Karlsplatz was reduced to a glass pavilion. This glass cube, which was also designed by Adolf Krischanitz, is now the second location of Kunsthalle Wien and presents a wide-ranging program of exhibitions and events.
Team
Ivet Ćurlin, Nataša Ilić and Sabina Sabolović, Kunsthalle Wien's directors from January 2020 seek to take the Kunsthalle Wien in an experimental new direction. They have based their programme on twenty years of collective work in Zagreb and internationally. As an all-female curatorial collective, they are well known as WHW (What, How & for Whom concept) with equal powers and responsibilities. WHW puts Vienna in all its diversity at the center of the programme, setting up exchanges with geographies, histories, and knowledge that have less visibility and recognition than activities in the main western capitals.
What is the purpose of the open calls?
The open calls aim to invite and choose 125 participants for the Cultural academy of cultural managment in 2022. They will be trained in the 5 creative programmes.
How many and what are the programmes in Cultart?
There are 5 programmes.
Festivals / Visual Arts / Performing Arts / Design and Architecture / Applied Arts
Here you can find more information about each five of them.
Where will the programmes take place?
Each programme takes place in one of the 5 partner cities:
Festivals in Plovdiv, Bulgaria
Visual arts in Austria, Vienna
Performing Arts in Ioannina, Greece
Design and Architecture in Lecce, Italy
Applied Arts in Skopje, Northern Macedonia
How do the candidates choose where to go?
Each candidate has to choose one of the 5 programmes of cultural management depending on their interests and experience. Each programme takes place in one of the 5 cities.
What do the programmes include?
5-day intensive training in 10 modules with key speakers of actual management fields; practical exercises while participating in the real working process of a cultural organization and work on business plans related to а Case study challenge.
What is the working language?
What are the 10 training modules?
The 10 specified modules of the Cultart programme are Cultural Innovations, Business & Entrepreneurship, Management & Administration, Project Development, Fundraising, Leadership, Conflict Management, Media & Communication.
What does the Case Study include?
What is essential to the Cultart programmes is the Cultart Case Study Challenges when the groups will have the chance to participate in the real working process of a cultural organization in each city programme. The Case Study Organizations will outline their main tools and models, their current work and projects, and will give a specific 'challenge' to the group. The Case Study Challenge is the final exercise where the group can present their new skills in offering cultural management solutions.
How and when the 5 business plans will be created?
During the learning sessions, participants will create drafts of their business plans as part of the training programme. All business plans will be published in a Cultart Business Book at the end of the project.
Do the participants get a certificate of attendance?
Yes, each participant will receive an Erasmus+ Certificate of attendance.
What is the Start-up platform?
Cultart Start-up Platform will launch as a final result of the project activities as a natural continuation and opportunity for the new cultural managers. It will upgrade all 5 programmes by giving them an open source of knowledge, network, discussion space, and product-to-business interaction. As an open-source online digital tool, the platform involves the young cultural managers in the real digital market world, cultural creative experts, investors, and public bodies.
Participants from 18 to 35 years from the 5 Cultart partners countries.
Who selects the participants?
The participants are chosen by a jury. The jury for all programmes will be selected from the team of each of the partner organizations in Cultart.
How many participants will be admitted to the programmes?
25 participants will be selected for each programme. A total of 125 participants for the 5 programmes.
When will the academy start?
Each programme starts at a different time of the year.
Festivals in Plovdiv, Bulgaria from 10 to 14 of October 2022
Visual arts in Austria, Vienna from 19 to 25 of January 2023
Performing Arts in Ioannina, Greece from 8 to 12 of May 2023
Design and Architecture in Lecce, Italy from 21 to 24 of November 2022
Applied Arts in Skopje, Northern Macedonia from 27 to 31 of March 2023
The Cultart Academy programmes are tax-free.
All transport and accommodation plus meals (food and beverage) allowances will be covered by the partner organizations.
*Considering the possibility of Cultart participants travelling from different parts of the world the covering of transport cost is limited to 275 euros.
Cultart Application Deadline: 15.08.2022, 23:59 а.м.
The approved candidates will be announced at the beginning of September.
If you have any other questions, please email us here: info@cultart.eu