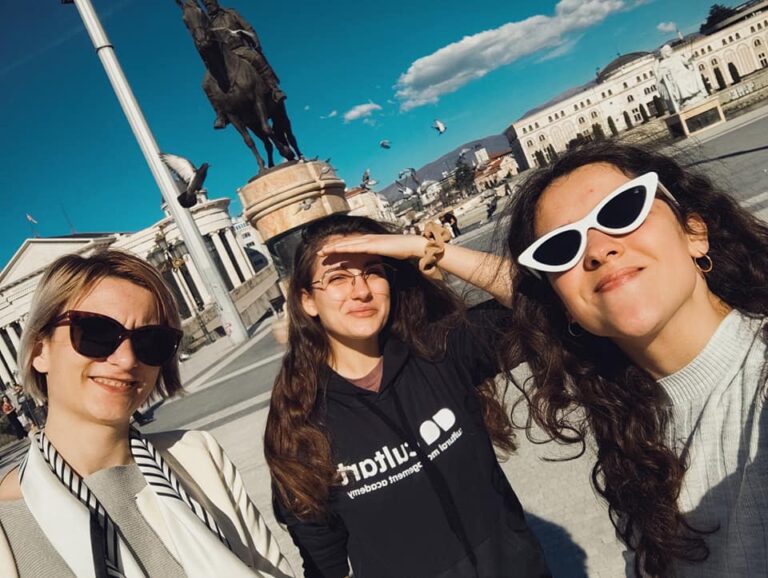 Presentation of the Macedonian Center for Photography – aims and goals – Robert Jankuloski
Keeping, documenting, branding, funding – Monika Moteska and Robert Jankuloski
Open Discussion
Day 1
| The Marathon
27 | 03 | 2023
Highlights of the first-day programme
---
Day 2 | Orienteering
28 | 03 | 2023
The group visited
the
Museum
of
Contemporary Art
and the
Museum of Macedonia
and meet Ana Frangovska the senior curator and the PR Suzana Minovska both of who shared their experience on working in extraordinary conditions, transforming a programme, design, developing an audience, and creating marketing strategies.
Two exhibitions in the MoCA Skopje appeared as the best examples
PETAR LUBARDA: WORKS IN THE MOCA SKOPJE COLLECTION – In the year that marks the 60th anniversary of the Skopje earthquake, the Museum of Contemporary Art Skopje is presenting the exhibition of Petar Lubarda, one of the most important Montenegrin artists and one of the most influential painters in the territory of the former Yugoslavia in the years after the WWII. In October 1963, Petar Lubarda donated all 26 works from his exhibition in Niš – later exhibited in Skopje – making him one of the first and among the biggest donors to MSU – Skopje.
LANDSCAPE OF ANXIETY – the exhibition focuses on these conditions named Landscape of Anxiety in which artistic practices encounter crisis situations as environmental engagements, generating tools, while influencing other interrelated agendas, such as urban planning, social inclusion, and the right to a healthy environment. The event is the result of a collaboration between artists, experts, activists, formal and informal associations, and institutions; including works that enable visibility, propose or encourage solutions, or are forms of activism that involve the public around existing problems and challenges.
---
Then a wide scope of management – between culture, sustainability, entertainment, and everyday life, the group met Aleksandar Velinovski, manager of Public Room – an interdisciplinary space of creativity, innovation, entrepreneurship, gastronomy, informal education, music experience, and networking in Skopje.
After the intense day of orienteering in the cultural scene in Skopje, the 5 working groups are ready to work on the case study challenges starting tomorrow.