The international academy Cultart invites young people from 5 countries to join the programme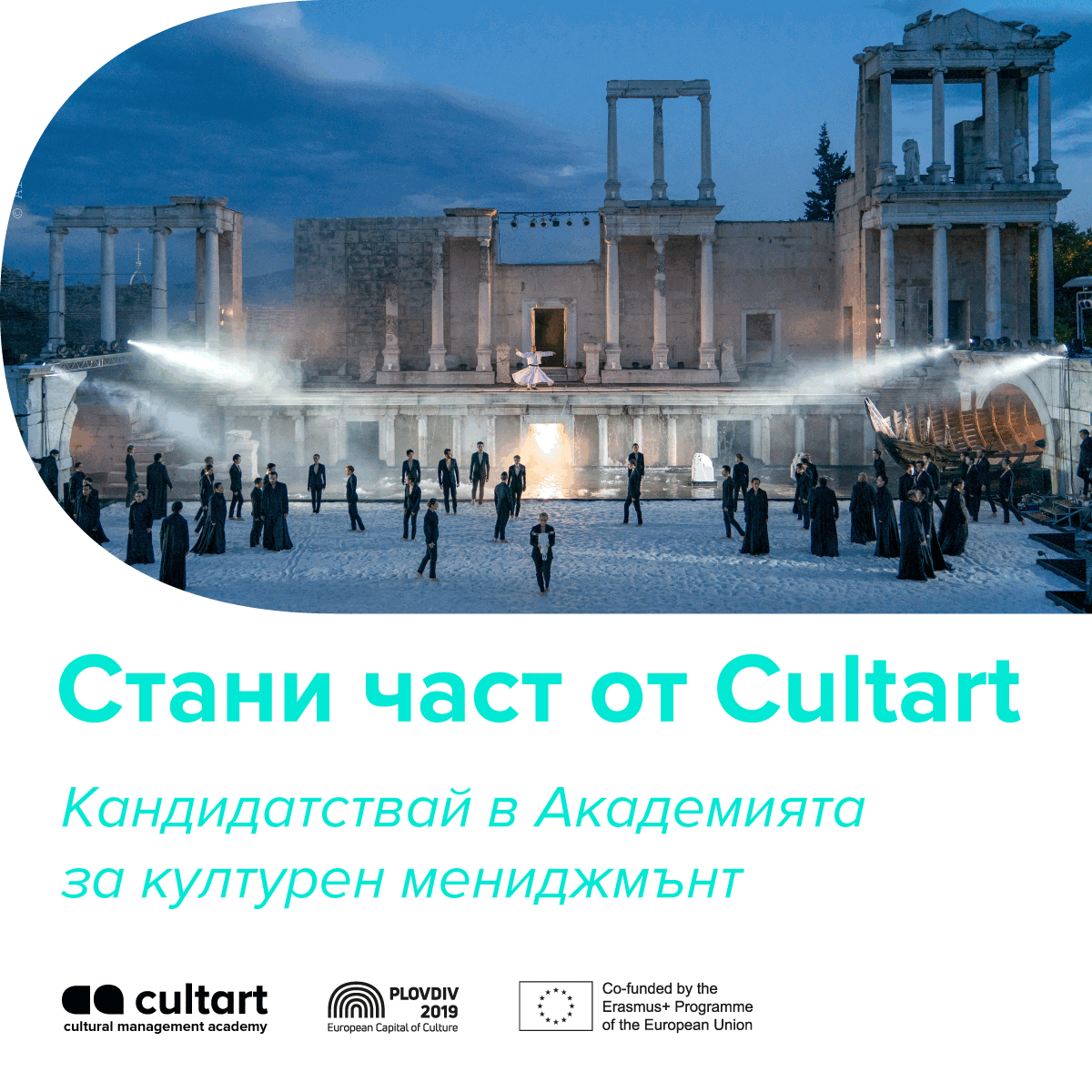 125 young experts aged 18 to 35 will improve their skills in various areas of cultural management over the next two years in the international project of Cultart – the academy of cultural management. The open call for applications is officially announced in the five partner countries where candidates can choose between the 5 cultural programmes depending on their interests and experience. All the 5 programmes are tax-free and the transport and accommodation allowances will be covered by the partner organizations. The candidates can easily apply online on the Cultart website with a deadline for participation 01.08.2022.
The team of 5 partner organizations have prepared 5 examples of the best practices for managing cultural projects of each country. Therefore the young cultural managers will be able to actively participate and work on some of the most successful editions of festivals in Plovdiv, Bulgaria, visual arts in Vienna, Austria, performing arts in Ioannina, Greece, design & architecture in Lecce, Italy, Applied Arts in Skopje, Northern Macedonia.
Until the beginning of September, all 125 cultural managers will be selected in international groups of 25 participants for every cultural programme. All groups will go through 5-day intensive training in 10 modules with key speakers of actual management fields; have practical exercises and work on business plans. The working language is English.
What is essential to the Cultart programmes is that the groups will have the chance to participate in the real working process of a cultural organization in each city programme. The cultural organizations will outline their main tools and models, their current work and projects, and will give a specific case study challenge to the group to solve.
Here are the case study cultural organizations :
State Opera – Plovdiv will be the leading cultural institution under the 'Festivals' programme with a focus on one of the most recognizable and sustainable festivals in Bulgaria – "Opera Open". The participants will have the opportunity to learn how to curate a rich national and international programme, how to attract famous artists and lead a team, what is to organize large-scale events within 3 months on the unique stage of the Ancient Theater, what are the audiences per with a special focus on the challenges in past two years and the effects of the Covid-19 pandemic. The Academy in Plovdiv will be held this fall from October 10 to 14, 2022.
Choose your programme and apply HERE