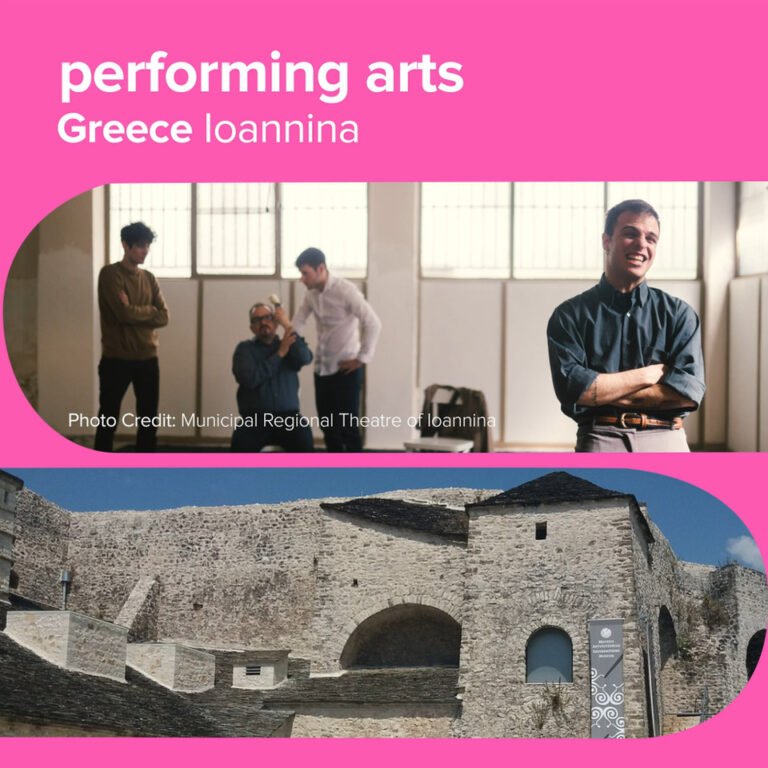 Short bio and projects
The Municipal Regional Theatre of Ioannina (DI.PE.TH.I.) was founded in 1983, starting together with five other regional Theaters the institution of DI.PE.THE. It is the natural continuation of the Organization of the Continental Theater (O.TH.) which pioneered the rise of professional theatrical producers in the Greek region since 1976.
By the end of 2020, Di.Pe.Th.I. presented 129 professional theatrical productions with a dramatology that includes projects of: ancient Greeks (8), modern Greek (55), classical (18), modern (27), and adaptations (20).
These projects were presented by the 4 stages of the theater (Main, Youth – Children, New, and Experimental) at its headquarters and in many major tours, covering over 300 different regions throughout the country and abroad. A total of 4,238 performances were given, attended by 969,251 spectators so far.
The Municipal Regional Theater of Ioannina is evolving.
Depending on the type of productions presented, the Main, the Children's, the Experimental & the New Stage were formed.
The main stage of Di.Pe.The. Ioannina produces projects of the world and Greek drama that are addressed to audiences of all ages.

The children's stage of Di.Pe.The. Ioannina produces performances for children every year. Projects from the Greek and foreign repertoire that have been written exclusively for children, but also adaptations of works or novels.

The Experimental Stage of Di.Pe.The. Ioannina proposes either new projects or a new way of presenting already performed projects.

The new stage of Di.Pe.The. Ioannina presents modern productions with a new media and structure and is addressed to an audience of all ages.
Location, venues, performing halls
Di.Pe.The. Ioannina is being hosted and has occasional spaces for performances, cultural events, theater workshops, rehearsals, and seminars.
Kamperio Theater
The Kamperio Theater is hosted on the ground floor of the Kamperio Cultural Foundation with a capacity of 230 seats and adequate technical equipment. It is available for other events besides the performances that take place on its stage: cultural events, conferences, book presentations and speeches can take place at the Kamperio Theater.
Rehearsals
On the 4th floor of the Kamperio Cultural Foundation there is a hall of 112 sqm with stands, in which the theatrical workshops of Di.Pe.The. but also for performances of professional and amateur troupes of the city take place.
Wardrobe
Το Di.Pe.The. Ioannina has a wardrobe that is hosted on the mezzanine floor of the Kamperio Cultural Foundation.
The costumes of the wardrobe room are available for loan and in its collection you can find costumes of the performances that have been uploaded by Di.Pe.The. Ioannina from its foundation until today.
The library
On the ground floor of the Pyrsinella Mansion is the lending library of Di.Pe.The. Ioannina, where you can find plays, theater studies, and many other books related to the art of theater. Membership in the Lending Library is free.